This project is adapted from
Yellowstone Fires
---
Situation
In Yellowstone National Park, the fire season usually lasts from June to early September. In 1988, several factors led to an abnormal fire season. During June of that year, there was little rain and extremely high temperatures and winds. Yellowstone National Park was suffering from severe drought conditions. The drought left Yellowstone more vulnerable to fires than usual. Several fires were started by lightning and several by human activities. By July 21, many thousands of acres had burned. The Yellowstone National Park fires of 1988 were the largest series of fires in the northern Rockies during the last 50 years. The fires of 1988 led to an intense public debate regarding the National Park Service's fuel management policy. This policy stated that fires started by natural causes should be allowed to burn to their natural conclusion.
In 1995, a report by the Congressional Research Service stated that the current fuel management policy's reduction of fire control costs and damages is not well documented. For this reason, a group of concerned government agencies has contacted your team of environmental biologists. This group would like your help in resolving this policy debate. They would like to know whether or not to allow naturally-caused fires in national parks to burn to their natural conclusion. The government agencies are particularly interested in your recommendations based on your Earth System Science (ESS) analysis of a fire's impact on the air, land, water, and living things. Your group has been selected in part because you live so close to Yellowstone. You are more familiar with the climate and local ecosystem than other experts around the country.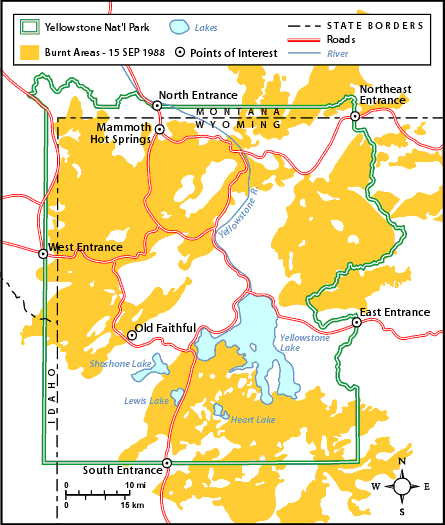 Help the Forest Service make a decision. The next time there's a natural fire in Yellowstone National Park, should they try to put it out or let it burn? Perform an ESS analysis to predict the results under the existing policy and to support any recommendations you would make to revise the policy.
Using the protocol below and other available resources, prepare a report or presentation based on your ESS analysis in which you and your team make recommendations, predictions, inferences, or other appropriate resolutions about the problem. Be prepared to support the position you take.
Protocol
First, you will perform an Earth system science analysis. Then, you will make predictions, based on the results of the ESS analysis, concerning the policy debate about whether to let naturally-caused fires in national parks burn to their natural conclusion.
Follow the steps in the attached homework sheet. You'll be handing this in after the discussion. The steps will help you with your research and prepare you to make a decision and be ready to defend it to the task force of concerned government agencies.
Resources
The following resources may help you make your policy decisions: